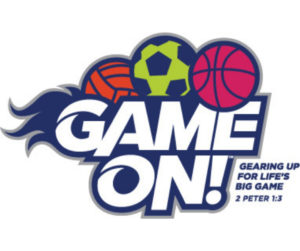 Sports Camp

Registration and Information |

June 10 – 13
"Gearing up for life's big game!"
Join us for Sports Camp where kids will realize God has given them His ultimate playbook. He wants them to join His team, train hard, celebrate salvation, and encourage one another. So Gear up! Get ready! and Game on!
Please join us on June 9th at 10:00 am for our Worship Service to celebrate graduates and kick-off Sports Camp. Following the service, we will celebrate the day with a church-wide tail gate following service complete with food trucks and outdoor games.
Camp will run Monday through Thursday evening from 6:30pm – 8:00pm. Camp is Preschool (potty trained) through 5th Grade. Program cost is $35 per child or $90 max (3+children) per family.
You can register your child(ren) below, then click HERE join our Support Team and become part of the fun! Registration will be closing on May 27th.