A Message from Pastor Steve Norden (1985)
The following was included in New Hope's 1985 Church Directory.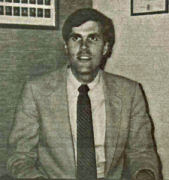 Dreams are the seeds from which greatness comes! Early in 1628, the Reformed Church in this country was a dream held by a few settlers in what was then known as New Amsterdam, now Manhattan. The Reformed Church has had a continuing ministry in this country for over 350 years! In the mid 1970's, it was the dream of the Reformed Church to begin an intentional program of church growth, planting new churches in some of the fastest growing areas of the country. In the early 1980's, it was the dream of a few forward-looking individuals to begin a new Reformed Church in the fast growing suburbs of northwest Columbus.
We who are New Hope Church are the inheritors of that dream and it is now our opportunity to carry that dream forward. Our recently written Philosophy of Ministry states it this way: "We are a people of hope who are committed to Jesus Christ. We have been called from different backgrounds, in different ways, yet made one in Him. Because of God's love for us in Christ, we seek to live lives full of joy. Our joy is expressed in uplifting worship, positive faith, sincere prayer and practical ministry." (Philosophy of Ministry – 1985)

As our logo suggests, our hope is rooted in the promises of God made in the Old Testament, symbolized by the rainbow, and finding fulfillment in the resurrected Christ. The arms of the Christ figure are open wide, symbolic of our desire to welcome all who come to us, offering them "new hope" in the person and power of Christ.
My dream is that our dream will grow. That is why there is plenty of room in this church directory. As our New Hope "family" grows, so will the number of pages in this directory. Let's use this directory as a tool to help us grow in our fellowship with and love for each other so that we can reach out together, and do something great for God!
Your pastor, Steve Norden