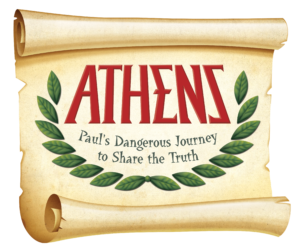 Escape to Athens With Paul!
Imagine leaving a life of privilege and power to face angry mobs, painful imprisonment, and chain-breaking earthquakes—all to spread the life-changing truth of God's love. Learn the jaw-dropping story of the Apostle Paul…straight from Paul himself! In an ancient "anything goes" culture, Paul will inspire kids to share the truth of God's immeasurable love today!
Fall Kids WOW begin on Wednesday, November 6th and continues Wednesday evenings through December 11th from 5:30pm-7:30pm. Kindergarten through 5th graders are invited!
Cost is $30 per child with a cap of $90 per family. Scholarships are available if needed; please contact Rachel Warren for more information at warren@newhopeworship.com. Registration is now closed.
WOW is a volunteer based program and only possible with support from parents. We ask that if your child is participating in WOW, that a parent, spouse, guardian or other adult family member serves at least 2 times per session. Click the button below to register to volunteer.