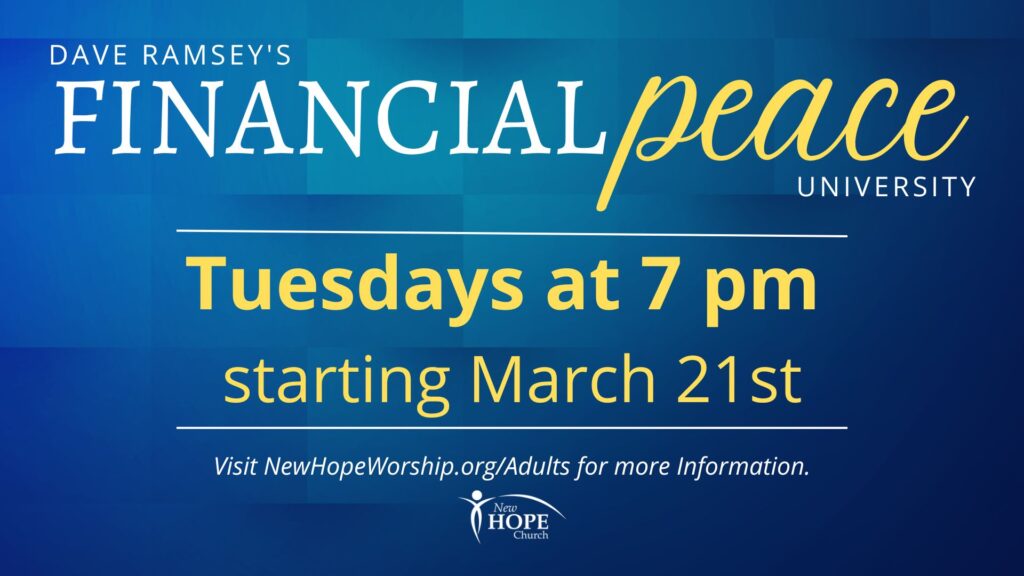 Financial Peace
Starting March 21st, Tom Johnson will be leading Dave Ramsey's Financial Peace University. Financial Peace teaches you how to save for emergencies, pay off debt fast, spend wisely, and invest for your future. The class will meet Tuesdays at 7:00 pm. Participation cost is $65 per individual, and $100 for two individuals. These costs cover complete participation for the entire series including all related materials. Please click both buttons below to register for this course. One button covers the registration with Dave Ramsey (search for New Hope by entering our zip code 43065) AND the other will cover the class payment.
Financial Peace Childcare: We are looking for volunteers to care for the children of Financial Peace participants while the class gathers on Tuesday evenings from March 21st – May 16th. Click here if you would like to volunteer in the nursery to watch our little ones. Thank you!

10 am Adult Sunday School
Starting Sunday, February 19th
What To Do When You Don't Know What to Do
In "What to Do When You Don't Know What To Do", the class will be reading the Book of James and finding different situations where we can see how to act and react as people of God. Are you going through trials in your life? James has a word of encouragement for you. Are you wondering how to handle temptation? James gives straight-forward counsel. Are you living for wealth and not for the Lord? James paints how to change that existence. Join us at 10:00 am starting February 19 to study a book that was written for us today led by Tom Heuer.
The Life You've Always Wanted
The season of Lent (between Ash Wednesday and Easter) is a season in which we emphasize our inner spiritual life. We often accomplish this by taking on spiritual practices (sometimes called disciplines) like prayer, fasting, or Christian service. Join Pastor Chris on Sundays or Wednesdays in the season of Lent to explore some of these practices in a class called The Life You've Always Wanted, based on a book by John Ortberg. The Sunday class will begin on February 26 at 10 a.m., and the Wednesday class will begin on March 1 at 7:00 p.m. after the Lenten soup suppers.

Winter Women's Bible Study
Celebrating Sabbath
In this ten-session series, Dr. Carol Bechtel leads us through God's gift of Sabbath. Each lesson focuses on a particular passage of scripture about the Sabbath and how God gave us this day to be a blessing in which we delight in. The gift of sabbath has the potential to reform and redirect all out ways of living. It should be the source and goal that inspires and nourishes the best of everything we do. Meets on Wednesday Afternoons 12:30 pm to 1:30 pm beginning
on January 11.
New Member Class
Are you interested in learning more about New Hope Church and how you become a member? A new Discovery Class begins Sunday, April 16th. This is a six-week class that will meet during our 10 am Discipleship hour on Sunday morning. Childcare is available during class time.

NEW Groups Coming this Winter
We are excited to announce a new small groups initiative at New Hope Church!
If you are interested in creating more consistent, meaningful relationships, consider learning more about Small Groups, mark your calendar for 10:00 am on Sunday January 8th. There will be a meeting to learn more about what small groups are and how to sign up for one of the new groups that will be starting soon.
Contact
Chris Jacobsen
with questions.

Band of Brothers
Join Pastor Chris for conversations about faith, scripture, and life. Contact
Pastor Chris
with questions and visit our
calendar
to see the meeting dates.

New Hope MOPS
Visit MOPS to learn more about this amazing program where no one "moms" alone!
Watch the video below to learn more. Click

HERE

to sign-up for FREE!