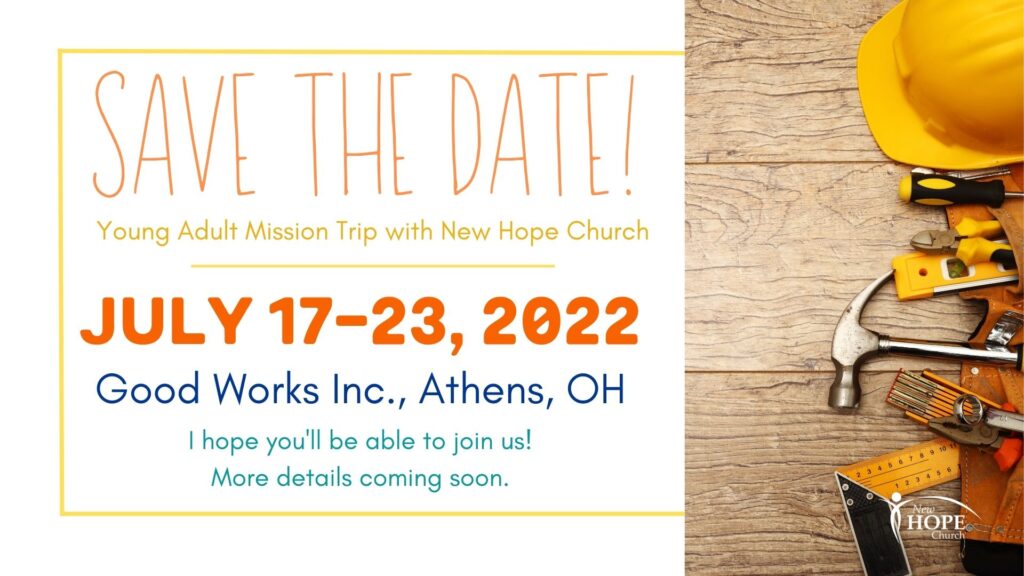 Adult Mission Trip
Organization for an adult mission trip is underway! College students to adults of all ages are welcome to attend. We will be going to Athens, OH and partner with Good Works, Inc to serve the community with housing projects and an end of the week community picnic. The week of the mission trip is July 17 through July 23. There will be an information meeting after worship on May 22. Please plan to attend to learn more about this mission opportunity.

Women's Bible Study
The Women's Summer Bible will begin next month on Wednesday, June 15 at 6:30pm in the Fellowship Pavilion. Over the summer we'll fellowship together with food and conversation as we engage in the stories of women in the Bible with a study called "Daughters of Grace" by Kristin Schmucker.

Band of Brothers
Stay tuned – We will return this fall!

Empty Nester Small Group
Empty Nesters is a social/support group at New Hope. We won't discriminate if you aren't an empty nester though! Before covid, we did activities such as bowling, attend a baseball game, dinner at a home, watch OSU/Michigan game. If you are interested in joining our group, please contact Russ Fling (rtf@metamesa.com with Empty Nesters in the subject). Thank you!

New Hope MOPS
Visit MOPS to learn more about this amazing program where no one "moms" alone!
Watch the video below to learn more. Click

HERE

to sign-up for FREE!