Adult Ministry at New Hope includes many ways to learn, grow, and connect with each other. Find an activity that fits your needs and feel free to jump in! If you're not sure where to begin,
contact Pastor Sarah
for suggestions.
Are you new to New Hope, or maybe new to church?
Join a
Discovery Class
, where we'll go over all the basics of what we believe, our mission, our values, and our structure.
Current Sunday School Classes
Get to know fellow members of the congregation in a more intimate setting at our Adult Sunday School classes. These classes meet at 10:15am (in between our two worship services) so you can attend worship and a bible study all in one morning. Classes meet most weeks from September through May, and occasionally during the summer.
Women's Summer Book Study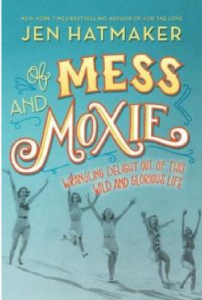 Upcoming Women's Book Study
"Of Mess & Moxie" by Jen Hatmaker
Wednesdays at 6:30pm | June 13-27 and July 18-27 in the Library
Save the date for Wednesday June 13 at 6:30pm for the Women's summer book study! This summer study we'll be reading and discussing the book "Of Mess and Moxie" by Jen Hatmaker. We'll also learn about Christian women who had a lot of moxie to leave a legacy of faith for the next generation. Childcare provided; please register your child below.
Want to dig a little deeper?
Join a weekday
Bible Study
. These studies typically last six to eight weeks, and meet during the day or in the evening.
Wondering how you can be part of God's plan?
If you're ready to transform your faith and your relationship with God, join us on
The Journey
, a three year discipleship program.
Looking for closer, spiritual friendships with your church family?