Mental Health Panel of Anxiety and Depression
On Sunday, November 5, from 6:30 p.m. to 8:30 p.m*., New Hope Church is hosting a Mental Health Panel discussion on anxiety and depression in the sanctuary. Our three panelists are Mikayla Brown (MA, LPC – Beacon Counseling), Malinda Eberly-Philips (LSW, SpringHaven Counseling), and

Maggie Rhine

(MA, LPCC- The Healing Care). They will share their wisdom and insights on the impact of anxiety and depression on the human experience from childhood through adulthood. As well as provide resources for how to get help when needed. We will also consider these topics through the lens of the Christian faith. All of us are impacted in some way by anxiety and depression. Come, learn, engage, and support this ongoing conversation on mental health as we all strive to cast our anxieties on the Lord because we know He cares for us (1 Peter 5:7).
*Note: This panel discussion is meant for adults only. Childcare will be available.

9 am Adult Sunday School
Biblical Mentoring – led by Tom Heuer
Tom Heuer invites you to engage in a class on the vital role mentors play in the Christian life and learn the skills for mentoring well. Join us for this 5 week class!
Self. Team. Mission. – led by Russ & Rachel Tate (starting 10/29)
Rachel and Russ Tate invite you into a discussion on how to be more effective parents by learning the importance of fighting for self, team, and mission as it applies to our families and our faith.

Women's Bible Study – Beginning Sept. 12
Wednesdays 12:30 pm – 2:00 pm with
Pastor Sarah
Prayer is a gift – an invitation to talk with God. But prayer can also be a challenge. Do you have trouble thinking of words to say, fear some emotions are too intense to express to God, or reach the end of the day only to realize you haven't prayed at all? You're not alone. Thankfully, in God's Word we encounter many voices who teach us how to pray. In this 7-session study, beloved Bible teachers Kelly Minter, Jackie Hill Perry, Jen Wilkin, Jennifer Rothschild, Jada Edwards, and Kristi McLelland will help us study prayers in the Bible that can inspire our own. In this study we'll discover when we pray, our faith is strengthened and our hearts are united to Jesus.

Band of Brothers
Join Pastor Chris for conversations about faith, scripture, and life with Band of Brothers. This group meets the 2nd and 4th Wednesday of every month from 7 – 8:30 pm. Contact Pastor Chris with questions.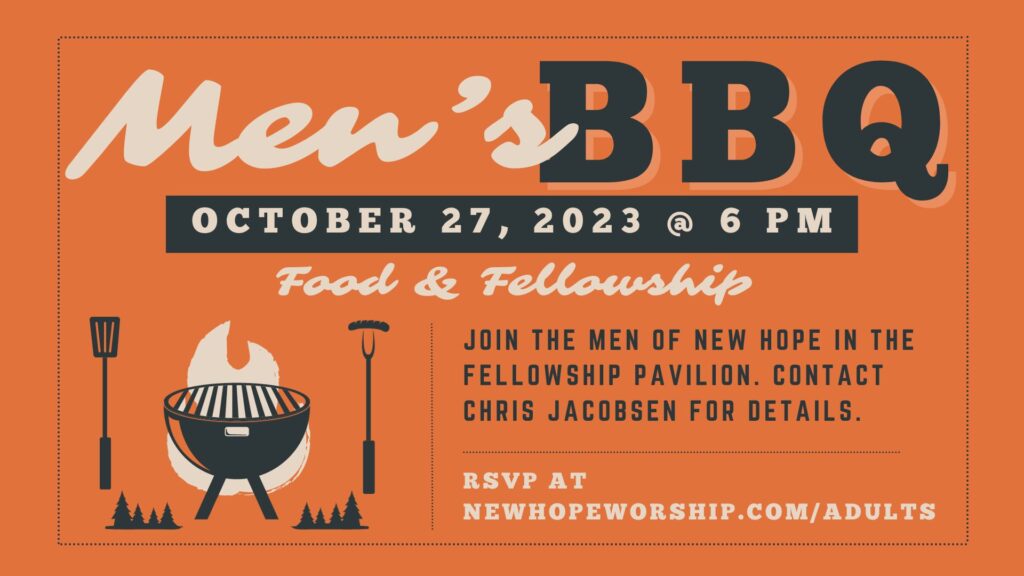 Come join us for an evening of food and fellowship as we gather in the pavilion on October 27th at 6 p.m. Our goal is to explore ways that we men of New Hope can become more involved in the faith journey that is the New Hope community. The newly formed Men's Ministry group is eager to get your input into ways of enhancing our spiritual growth while also being of service, both to our church and to our community.
We will be serving BBQ with a potluck of side dishes and desserts. Please RSVP below or contact Pastor Chris at 614-766-5445 x116 or email Jacobsen@newhopeworship.com.

NEW Groups!
We are excited to announce a new small groups initiative at New Hope Church! If you are interested in creating more consistent, meaningful relationships, consider learning more about Small Groups, contact Chris Jacobsen with questions.

New Hope MOPS
Visit MOPS to learn more about this amazing program where no one "moms" alone!
Watch the video below to learn more. Click

HERE

to sign-up for FREE!