This Week at New Hope
Click the button below to learn what's new with our Church this week and keep scrolling to see our upcoming events!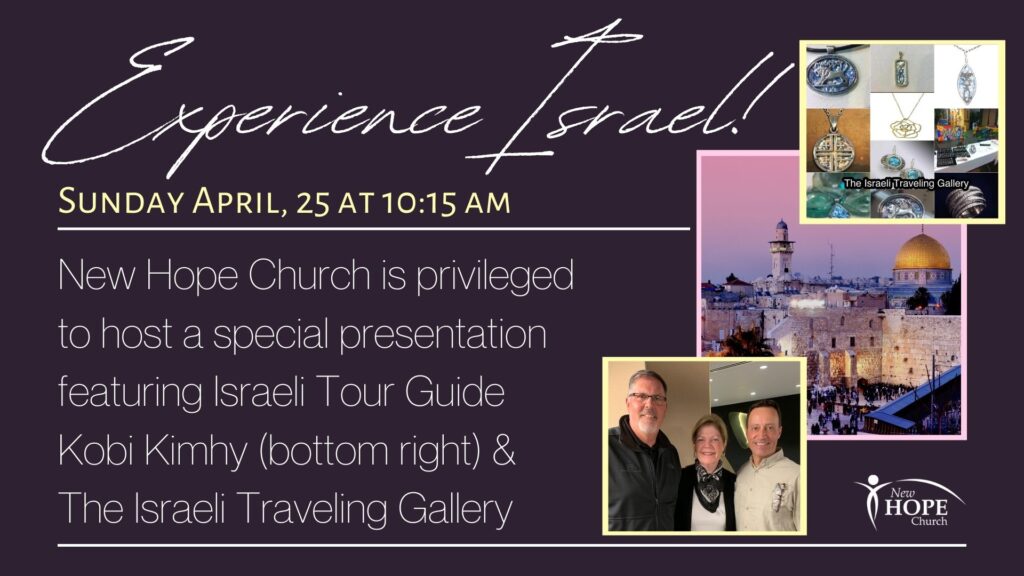 On Sunday, April 25, we are privileged to host a special presentation during the Adult Sunday School hour at 10:15. Kobi Kimhy, travel guide for the New Hope and Friends tour to Israel in March, 2020, will join us and offer a presentation on the biblical, historical and cultural highlights of the Holy Land. The presentation will feature photos taken by many in the New Hope and Friends tour group. He will be accompanied by Israeli Gallery Owners who will have merchandise available for your purchase. Items that may be available are jewelry (especially featuring items made with Roman glass from the time of the Roman occupation), Israeli art, Judaica and olive wood carvings by artists from Bethlehem. This will be a wonderful opportunity to support local Israeli artist and purchase items from the Holy Land for your personal use as well as for gifts for friends and family. Please help us spread the word.